Pro tools for home inspectors: starter kits, instruments & essential equipment
BASIC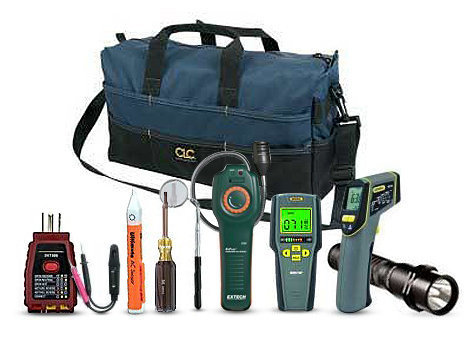 All American Training Adjuster and Inspector Tool Kit - Basic
Flashlight - Streamlight Strion LED 260 lumen flashlight with AC/DC charging cords and 1 charging bracket
Combustible Gas Detector - Extech Combustible Gas Detector
Infrared Thermometer - General Tools 8:1 infrared thermometer
Moisture Meter - Non-Invasive Moisture Meter
Non Contact Voltage Detector - Santronics non contact voltage detector with audible alarm and light alarm
GFCI Tester - General Tools GFCI Tester
Line Voltage Tester - General Tools line voltage tester
Inspection Mirror - General Tools 2-1/4 inch round inspection mirror
6 in 1 Screwdriver - Morris Products 6 in 1 Screwdriver
Tool Bag - CLC 17 pocket tool bag
ATI Academy Member Discounted Price: $499
DELUXE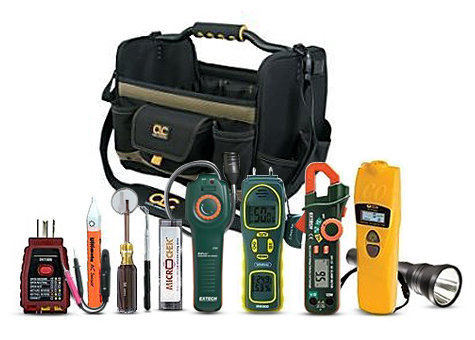 All American Training Adjuster and Inspector Tool Kit - Deluxe
Flashlight - Streamlight Strion LED HPL 615 lumen with AC/DC charging cords and 1 charging bracket
Moisture Meter and Hygrometer - General Tools pin and non-invasive moisture meter as well as air temperature and humidity
Carbon Monoxide Detector - General Tools carbon monoxide detector
Combustible Gas Detector - Extech Combustible Gas Detector
AC Clamp Meter - Extech 200 amp AC mini clamp meter, non contact voltage detector and flashlight
Microwave Tester - Micro Check microwave leak detector
Infrared Thermometer - General Tools 8:1 infrared thermometer
Non Contact Voltage Detector - Santronics non contact voltage detector with audible alarm and light alarm
GFCI Tester - General Tools GFCI Tester
Line Voltage Tester - General Tools line voltage tester
Inspection Mirror - General Tools 2-1/4 inch round inspection mirror
6 in 1 Screwdriver - Morris Products 6 in 1 Screwdriver
Tool Carrier - CLC 21 pocket tool carrier
ATI Academy Member Discounted Price: $799
You need to adapt along with the tech. Becoming an ATI Academy member gets you ongoing discounts on new home inspector tools.
Being a profitable home inspector is more gearing up with the basic required tools, checking the checklist and doing what you're supposed to do. Whether you're working for yourself or someone else, you are constantly selling yourself and the value of your work. Home inspection reporting software and marketing materials are crucial to legitimizing your business and helping it continually grow.
Membership with ATI Academy means instant access to industry professionals with an unparalleled track record of helping home inspectors 1) get much better at the trade 2) make a bunch of money.
Join ATI Academy to get all the gear you need and equip yourself with all the tools needed for a lucrative career in home inspection.