Reporting software for home inspectors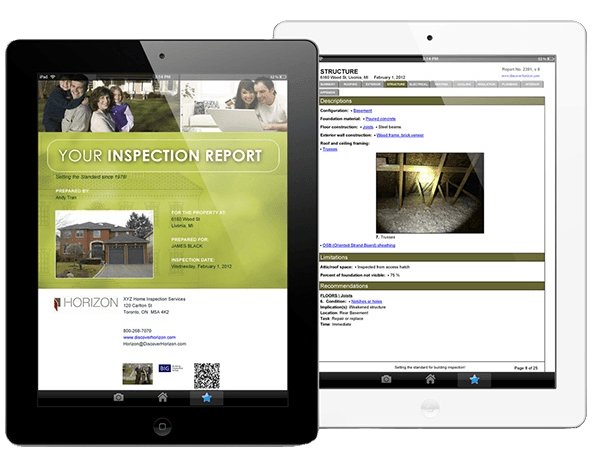 We offer members inspection reporting software at tremendous rates to makes home inspections faster and easier:
Get up and running for as little as $300
Produce professional quality reports
Customizable, intuitive templates
Instantly add photos with easy editing
Integrate work orders, scheduling, archiving at no extra cost
Use mobile app in the field with your Apple/Android device

LEARN MORE & PURCHASE
Software compatible with computers, phones, tablets and all sorts of tech.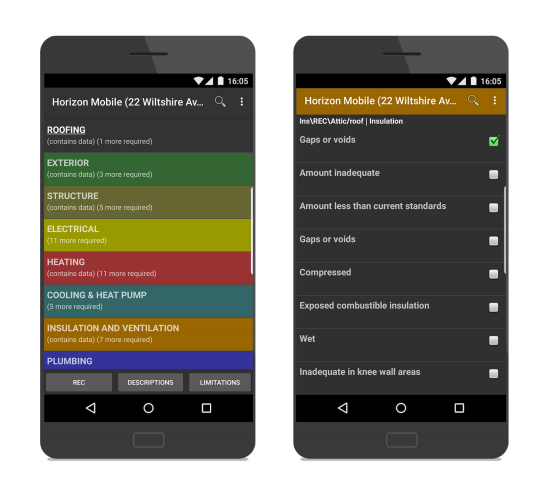 You can build reports on your computer/PC or generate it entirely on your mobile phone (Android & iOS/Mac compatible). Many inspectors will do most of the data entry in the field on their phone and polish it up on their office desktop.
For more information about the software, including tutorials, downloads (sample reports), mobile app info or a full list of features, you can visit the official website for Horizon inspection software.
The reviews are in: this is one of the best home inspector software programs on the market.
For individual home inspectors and bigger companies with many inspectors out in the field reporting at once, Horizon home inspection software offers seamless management of report writing. You don't have to be a computer whiz to quickly put together highly professional reports for homeowners & realtors—and the software will automate processes like report design, scheduling, accounting, and client communication.
You'll be spending more time in the field inspecting homes and making money – and less time staring at a screen grinding to make your inspection reports look professional.
Check out feedback from real home inspectors who have seen their businesses flourish by embracing Horizon reporting software.
Give it a try with a free trial – or join ATI Academy for a big price cuts.
Horizon offers a free trial for its home inspector reporting software – and when you realize its capabilities you'll have a hard time going back. The cost is a whole lot less when you're an ATI Academy member.
Joining ATI Academy gets you a big discount on this report writing software along with all sorts of other career benefits. Please contact us if you have any other questions before getting started.